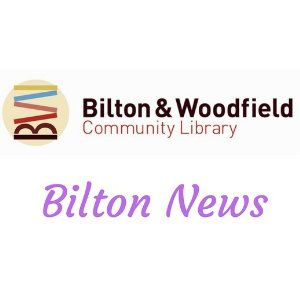 Bilton News – January 23
Coffee morning: at Bilton and Woodfield Community Library on Saturday, January 25 10am-noon. The monthly coffee morning is the occasion when the stock cupboard is opened for a big sale of second hand books and when it is possible to obtain advice on problems with laptops and ipads, just take your device along. This month Warm and Well will also be there to offer advice on reducing energy bills and any matters relating to energy and keeping warm in winter. Everyone is welcome. The library is on Woodfield Road on the same site as the school and Children's Centre.
Song of Praise: in St John's Church Hall on Saturday, January 25, 3-5pm. All are welcome to go along to sing hymns, enjoy good company and refreshments. If more information is required telephone 01423 522828. It is a custom at these events to place a donation dish by the door as people leave. Any money donated is given to charity. In 2019 Dementia Forward, HELP, Martin House and Saint Michaels's Hospices were all beneficiaries.
2nd Bilton Guides: is 50 years old next month. Are you an ex 2nd Bilton Guide? In February there will be an evening celebration to mark the occasion. If you would like to attend or need more information email christinenorton650@gmail.com Also, if you know an ex guide who may not read this column, please pass the message on.
Services at St John's: on Sunday, January 26 Holy Communion is at 8am and 10am. Morning worship at St Luke's takes place at 10.30am. Next week morning prayer is on Monday, Tuesday, Wednesday and Thursday, 9-9.30am. On Wednesday, January 29 Holy Communion takes place at 10.30am.
Bilton Grange URC Monday Fellowship: has a text morning and bring and buy followed by lunch on Monday, January 27. To find out more telephone 01423 503221.
Bingo: at Bilton Community Centre, 48 Bilton Lane on Monday, January 27 at 2pm. Everyone is welcome to go along and join in the fun. Entry 30p. Bingo books 50p each.
Chat and Craft: this friendly group meets on Mondays at Dene Park Community Centre, 2-4pm. They work on crafts including knitting, sewing, crocheting and card making whilst enjoying a chat, a cuppa and having a good laugh. It costs £3 a session. If interested please telephone Dorothy on 01423 506599.
Fitmums: a friendly running club for men and women. There is no need to be a mum, a dad or fit. It takes place every Monday at Bilton Health and Wellbeing Hub, 69 BIlton Lane at 7.15pm. Several distances are offered with a trained leader to support. First three sessions are free. To find out more email admin&fitmums.org.uk
Bilton Men's Forum: on Tuesday, January 28 at Bilton Community Centre Melvyn Rutter will take an alternative look at climate change. His talk will be illustrated by slides. Tea is served from 2pm, the speaker starts at 2.30pm.
Crimple Valley Quilters: meet at Bilton Community Centre on the first, third and fifth Wednesday of each month 9.30am-12.30pm. The next meeting is January 29. You are invited to go along and sew with s friendly group in a comfortable and sociable environment. This can be an opportunity to develop new techniques and broaden skills in patchwork and quilting. The programme includes sewing days, workshops and the occasional guest speaker.
Domino Night: a new venture for Bilton Community Centre on Saturday, February 29 at 7.30pm. Entry is £5 including a light supper consisting of a roll, side salad/crisps. There will be prize for the top scoring male and female. There is no need to be part of a team as this event is open to individuals. There will be a raffle. To book a place telephone Barry on 01423 421727 or email barryjeffrey14@gmail.com