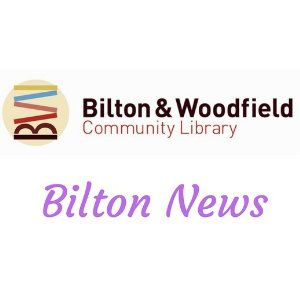 Bilton news – October 1
Exciting news: to celebrate Libraries Week which commences on Saturday, October 3, Bilton and Woodfield Community Library is launching Children's Book Bingo. Children collect a bingo card from the library; choose four different books to read from the card which will make a line down, diagonally or across it. All completed cards will qualify for a small gift and be entered into a prize draw. The bingo will run until the end of the year so there is time to have more than one go. It is free. All completed cards go into the draw. For grown-ups there is a book quiz running until the end of the October. Buy a quiz sheet for £1, when complete return it to the library. There may be a prize. More good news is that the popular second hand book sale is also returning on October 3. Books will be available for a minimum donation of 50p each. Volunteers do not handle cash so please ensure you have the correct change to place into the donation boxes. Because of space constraints it is not possible to accept donations of books for the time being.
Less exciting news: is that, because of the increased coronavirus restrictions, Bilton and Woodfield Community Library will not be extending its opening hours this month. They remain Mondays 1.30-4pm, Thursday, Friday and Saturday 9.30am-noon. It is now mandatory to wear face coverings unless there is a medical reason preventing this. It is also mandatory to register for test and trace either through the paper version which has been in operation for some time or via the new app. Otherwise it is business as normal, come along to choose your books or take advantage of select and collect. One computer is available for half hour slots which must be booked in advance by telephone 01423 564630. The library is on Woodfield Road on the same site as the school and Children's Centre. There is a car park. New library members are welcome and it is free to join.
Granby Rose Care Home: is celebrating the Harvest Festival through singing, enjoying traditional harvest dishes and connecting with community groups. There are lots of exciting plans for the celebration on Wednesday, October 7 and the residents are looking forward to Christ Church calling on Zoom so they can join in with the service and hymn sing at 2.30pm. To find out more email granby.rose@fshc.co.uk
Bilton Men's Forum: Chris from the Forum has been in touch to say that, after careful consideration, it has been decided not to resume meetings until 2021. Of course this is disappointing but quite understandable. Members will be kept in touch and informed of the start date when it is known. In the meantime, take care of yourselves and keep well.
Highlight of the week: was the spitfire fly past over the hospital. It could be seen and heard from Bilton. The plane had the words "Thank U NHS" on its undercarriage. Having being alerted by a neighbour that this was going to happen I was well prepared standing at the bedroom window with binoculars. It arrived two minutes early by my calculation. It did not look very big, because spitfires are not very big, and even with binoculars it was not possible to read the message. It did not stay long and a year ago this would have gone down as one of the weeks disappointments but in these strange times it has been promoted to highlight of the week.
Strangest sight of the week: was snow in September. On a rare journey out of Harrogate it took us a while to realise the grey coloured substance lining the sides of the road near Arthington was snow. More accurately it was probably the icy remains of the hail showers that had fallen the day before and which Harrogate managed to avoid. The photos on the television were quite spectacular and seeing snow and ice on the roadsides when the trees were still in full green leaf was strange.