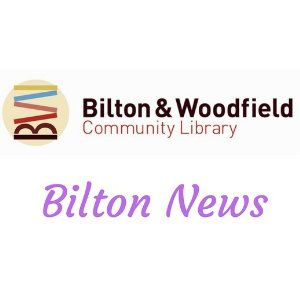 Bilton news – July 2
At last: lockdown measures are slowly being relaxed allowing more businesses to reopen. Most of those affected are now busy working behind the scenes so they can be ready to welcome customers back soon. But it is not all over. It will not be business as usual, this is just a start.
Books galore: the week before the lockdown thousands of books were issued by the Library Service. The shelves at Bilton and Woodfield Community Library are looking rather sparse so it is now time to return those books. The library will be open for three sessions a week to receive them. The sessions will be Monday 2-4pm, Thursday 10am-noon and Friday 10am-noon starting on Monday July 6. The normal lending service will not resume for at least two weeks because the returned books have to be quarantined for 72 hours before they can be returned to the shelves. This means they will be stacked in boxes occupying most of the free space in the library. Even without the added complications of social distancing this situation would make it unsafe to allow public access on health safety grounds. Please help the library volunteers provide a fuller service as soon as possible by returning your library books during this initial two week period.
New service: readers need not be without books as a new call and collect service is being introduced at Bilton and Woodfield Community Library. Tell the volunteers, via an order form, the type of books you like and a selection will be chosen for you to collect. A specific title can be selected and if it is in stock it can be supplied. Order forms can be printed from the website or collected from the library during the above opening hours. Orders can also be taken by telephone. The library is on Woodfield Road on the same site as the school and Children's Centre, telephone 01423 564630, website www.biltonandwoodfield.org.uk At the time of writing final guidance and requirements from the government have not been received and the situation changes on a daily basis. Things will most likely have changed by the time you read this. The website will be updated regularly as will Facebook and when the library is open telephone enquiries will be welcome.
News from St John's: although the church building has been closed there has been plenty going on online. There is good news for those who are not online and anyone who would rather not be and it is that the church is now open for private prayer on Wednesdays 10am-noon, Thursdays 6-7.30pm and Saturdays 10am-noon. During the lockdown the parish has said goodbye to curate, Ruth Donegan-Cross who has been appointed to a position in Birmingham. She goes with the good wishes of all who know her. A new curate, Laura Martin, is to start on July 4. Another new arrival is Emma James, the Young Peoples Worker. The grounds at St John's are looking wonderful. The team of volunteers manage to keep them tidy at the same time as allowing wild flower areas to flourish. New planting has been taking place near the church entrance.
Another sign of normality: last week a notice appeared on Skipton road conveying the news that major gas works started on June 25 for 14 weeks. This week another sign has appeared on King Edward's Drive stating that the top of the street, near its junction with Skipton Road, is to be closed for two weeks from July 12. At the time of writing traffic lights are still controlling the flow on BIlton Lane and Hill Top Avenue. If ever incentive was needed to carry on walking on cycling for short journeys this could be it.