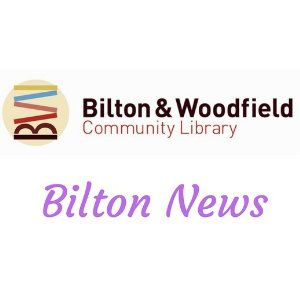 Bilton news – November 14
Outstanding: one of the words on the certificate presented to three representatives of Bilton and Woodfield Community Library at a recent countywide library conference. The certificate was for outstanding performance on the Summer Reading Challenge. More than 200 young people signed up for the challenge over the summer holidays and 193 of them completed it. The hard working volunteers well deserve this accolade. All the primary school children who helped achieve such a fantastic result deserve our congratulations too.
At the library this week: tomorrow, Friday, November 15 is the Scrabble Club, 2-4pm. Entrance £1, all welcome. On Tuesday, November 19 is Storytime for pre-school children and their carers from 10am free, and on Friday, November 22 a free family history drop in session 2-4pm ideal for anyone wishing to get started. The design a book cover prize competition finishes on November 17. The library is on Woodfield Road on the same site as the Children's Centre and school.
Services at St John's: on Sunday, November 17 Holy Communion is at 8am and morning worship at 10am. At St Luke's all-age Communion is at 10.30am and Café Church at 4pm. Next week morning prayer takes place on Monday, Tuesday, Wednesday and Thursday 9-9.30am. On Wednesday, November 20 Holy Communion is at 10.30am.
Ice cakes for hedgehogs: actually the cakes will be iced and decorated by children at the above mentioned Sunday service at St John's, 10am. They will then be sold after the service. The proceeds go to a cause chosen by the children, the Bilton Hogspital. The Hogspital cares for, heals and rehabilitates local hedgehogs, including feeding babies using a pipette; there are about 30 patients at any one time.
Chat and Craft Group: has been responsible for over 300 of the knitted poppies to be seen around the cenotaph this week. Currently the group is making various bits and pieces for Christmas sales which will enable them to raise money for charities. The most recent donation was to Saint Michael's Hospice. As the title of the group suggests, whilst working on their various crafts, lots of chatting is going on. The group meets at Dene Park Community Centre on Mondays 2-4pm. It costs £3 a session. If interested telephone Dorothy on 01423 506599
Yoga: there are now vacancies on the Monday evening Hatha Yoga sessions at Bilton Community Centre, 48 Bilton Lane, 7.30-9pm. The sessions are suitable for beginners and intermediate. £7 a class. Telephone Rachel MacLennan-Jones on 07896 772889 for further information.
Film club: at Bilton Area Methodist Church on Tuesday, November 19. Tea served from 1.30pm the film, "A Month in the Country" starts at 2pm. The church is on Skipton Road with the main entrance and car park at the rear off Bar Place. Free event but donations appreciated. All welcome.
Something different at the Hub: Rave-fit is a dance class in the dark with disco lights and finger lights. Al different styles from the 80s and 90s including dance music, musicals and much more. It takes place on Tuesdays 7.30-8.15pm at Bilton Health and Wellbeing Hub, 69 BIlton Lane. Also on Tuesdays, 8.15-8.45pm is Metafit, a HiiT workout. To find out more and if you wish to attend telephone Laura on 07972 124004 about both events.
Bilton Men's Forum: Robert Steemson is to show his photos of New York and New England at the meeting on Tuesday, November 19 at Bilton Community Centre. Tea is served from 1.30pm, the speaker starts at 2.30pm.
BIlton WI: on Wednesday, November 20 at Bilton Community Centre, 7.30pm, "The Chocolatier" is the title of a presentation by Andrew Thwaite. Visitors and new members are welcome.
Bingo: at Bilton Working Men's Club, Skipton Road every Saturday and Wednesday from 1pm. Entrance free just bingo books to pay for. This is a community event and membership of BWMC is not required. All welcome.
Stitch and Craft Group: concludes its 2019 season with a social evening on Thursday, November 21 at Bilton Community Centre 7.30pm. Telephone Pauline on 01423 507617 for further information and to request a 2020 programme when available.