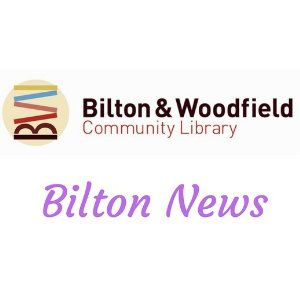 Bilton news – November 7
Coffee morning: on Saturday, November 9 in St John's Church Hall 10am-noon. Entrance £1 includes drink and biscuits. There will be several stalls including books, tombola, cakes, cards, plants and a raffle. Proceeds to go towards supporting youth work in Bilton. Everyone is welcome.
Thanks for support: the organisers of the St John's coffee morning in October would like to thank everyone who supported it and helped raise £440 for Tearfund.
CAT's: Creative Adventures with Textiles welcome Wyn Jones to Bilton Community Centre on Saturday, November 9 at 10.30am to give a presentation on her work relating to Eleanor of Aquitane. Visitors welcome.
Services at St John's: on Sunday, November 10 Holy Communion is at 8am and 10am. There will be a parade service at St Luke's 10.30am. Next week morning prayer takes place on Monday, Tuesday, Wednesday and Thursday 9-9.30am. On Wednesday, November 13 Holy Communion is at 10.30am.
Bilton Grange URC Monday Fellowship: What is Rotary? Those present will find the answer on Monday, November 11 at Bilton Grange United Reformed Church, 10.30am. Entry £2. The church is on the corner of Woodfield Road and Skipton Road.
Bingo: at Bilton Community Centre, 48 Bilton Lane, on Monday, November 11 at 2pm. Everyone is welcome to go along and join in the fun. Entrance 30p bingo books 50p each.
Knox WI: has its Annual General Meeting on Monday, November 11 at Dene Park Community Centre, 7.30pm. For more information telephone 01423 564986.
Bilton Area Methodist Church Lunch Club: the next opportunity to enjoy a really good lunch for just £4 is on Tuesday, November 12. To find out more or book a place telephone Averil on 01423 506600. The church is on Skipton Road with the main entrance and car park at the rear off Bar Place.
Bilton Men's Forum: Jim Dedicoat is to give a talk with slides on "A North York Moors Railway Update" on Tuesday, November 12 at Bilton Community Centre. The talk starts at 2.30pm and teas are served from 2pm. New members welcome.
Bilton Ladies Forum: on Tuesday, November 12 at Bilton Community Centre, 7.30pm Terry Williams is to present part two of "The Splendours of China." New members are welcome. To find out more go along to the meeting or telephone 01423 545511.
Dancing for Wellbeing: at Bilton Community Centre on Wednesday afternoons is ideal for anyone with mobility problems and a wide range of health issues. It is great fun, a partner is not needed, dancing can be sitting down or standing up, and a good memory is not required. £5 a session includes refreshments. Telephone Jackie Terry on 01423 531235 to find out more.
Avalon Bilton Club: is a social group for adults with learning difficulties or disabilities taking place on Thursday evenings during term time, 7-9pm at Bilton Health and Wellbeing Hub, 69 Bilton Lane. Free taster sessions available. To find out more email avalonbiltonclub@outlook.com
Book bingo: many regular borrowers of books from Bilton and Woodfield Community Library choose the same style of book on most visits because they like them, which is fair enough. Some do state a wish that they had the will power to try something different. Book bingo may just be the incentive needed; it runs from now until January 4. Pick up a bingo card in the library for free. Complete lines by reading several different type of book. All completed cards will be entered into a prize draw and a chance to win a book token. If you have not yet discovered the wide range of books available in your local library why not go along and find something you may like to read. The library is on Woodfield Road on the same site as the school and Children's Centre. Openings hours are Monday 1-7pm, Tuesday, Thursday, Friday 9.30am-5pm, Saturday 9.30am-1pm.