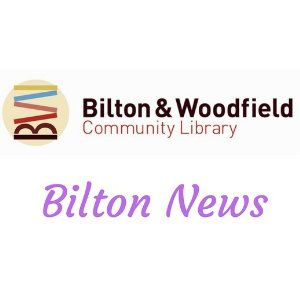 Bilton news – October 31
Saint Michael's Hospice: is a very popular local charity for very good reason. There are three shops in our locality. Those on King Edward's Drive/Church Avenue and Kings Road next to Sainsbury's will be familiar to most but did you know that, also on Kings Road, almost opposite the main shop, is another Saint Michael's Hospice outlet? It is called Just B. It specialises in designer wear and party clothes. It is a little more expensive than the main shops but there are still great bargains to be had whilst raising funds for a most worthwhile cause. Just B is open Thursday, Friday and Saturdays. It is maybe worth a thought when planning your Christmas wardrobe.
Design a book cover: Bilton and Woodfield Community Library has a competition running until November 17 for children. There are three groups, pre -school, up to seven and up to eleven. The book cover for a favourite story must include a title. Pencil, crayon, felt tip, paint, stick on things can all be used. Go along to the library on Woodfield Road, on the same site as school and Children's Centre, pick up a form and start designing.
Coffee mornings: there is now a coffee morning somewhere in Bilton on most Saturdays. On the first Saturday of each month the host is Bilton Area Methodist Church. This Saturday, November 2, 10-11.30am you are most welcome to go along. A warm welcome is assured. The church is on Skipton Road with the main entrance and car park at the rear off Bar Place.
Services at St John's: on Sunday, November 3 Holy Communion is at 8am and 11am. There is a parade service at 9.30am and at 4pm a service to remember and give thanks. At St Luke's all-age morning worship takes place at 10.30am. Next week morning prayer is on Monday, Tuesday, Wednesday and Thursday 9-9.30am. On Wednesday, November 6 Holy Communion is at 10.30am.
Here to Help: at Bilton Health and Wellbeing Hub, 69 BIlton Lane on Tuesday, November 5, 11am-noon. Drop in for a free cuppa and chat, enjoy some company and find out where to turn for community activities and support. There is no need to book. If you would like further information telephone Jen on 01423 813090 or email halp@harcvs.org.uk
Bilton Men's Forum: on Tuesday, November 5 at Bilton Community Centre, 48 Bilton Lane, Mel Clark is to give a talk with slides on Antarctica. Tea is served from 2pm, the speaker starts at 2.30pm. New members welcome
Bingo: at Dene Park Community Centre every Tuesday and Thursday between 1-4pm. Entry is 40p, bingo books extra. Enjoy good company and a cup of tea. The 2a bus stops at the door. All welcome.
BIlton Historical Society: Mike Bevington will be taking a walk round the Studley Royal Deer Park from within the comfort of Bilton Community Centre on Wednesday, November 6. His illustrated lecture starts at 7.30pm. Admission £2 includes refreshments and a raffle. Everyone is welcome.
CATs: Creative Adventures with Textiles meets on the second Saturday of most months at Bilton Community Centre. On November 9 Wyn Jones is to give a talk on her creative work related to Eleanor of Aquitaine. The talk starts at 10.30am and there will be an opportunity to look at her work. After lunch members will be spending time on their own stitching. In December CATs is spending a day at Salts Mill. To find out more go along to the meeting or telephone Sue on 07731 507156
Coffee morning: in St John's Church Hall on Saturday, November 9, 10am-noon. There will be cakes, raffle, tombola, cards, books, plants. Entry £1 includes drink and a biscuit.