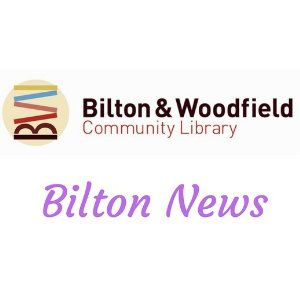 Bilton news – October 24
Coffee, crafts and collections: on Saturday, October 26 at Bilton and Woodfield Community Library.  The Library opens at 9.30am then, between 10am-noon, coffee and cakes will be available; there will be children's crafts when the wall boards in the library are to be decorated with pictures made by the children using various shapes; and last but not least Harrogate Philatelist Society will be there to share their enthusiasm by bringing along a collection of Harrogate postcards, materials linking Harrogate with the First World War, various stamps and other collectables.  There will even be packets of stamps to give away.  That is not all. The stock cupboard containing all the second hand books for sale will be open.  This is too good to miss.  The library is on Woodfield Road on the same site as the school and Children's Centre.  There is a car park.  Everyone is welcome.
Songs of Praise: in St John's Church Hall on Saturday, October 26 from 3-5pm.  Pam Mills will be leading, David is on the piano and Enid and her team will serve teas and refreshments.   Is a Songs of Praise afternoon for you?  Why not go along and find out.  A warm welcome awaits.  Telephone 01423 522828 for more information if required.
Services at St John's:  On Sunday, October 27 Holy Communion is at 8am and all-age Communion at 10am.  At St Luke's morning worship is at 10.30am.  Next week morning prayer takes place on Monday, Tuesday, Wednesday and Thursday 9-9.30am.  On Wednesday, October 30 Holy Communion is at 10.30am.
Bilton Grange URC Monday Fellowship:  will be exercising with Beryl on Monday, October 28 no doubt working up an appetite for the lunch to follow.  For further details telephone 01423 503221.  Bilton Grange United Reformed Church is on the corner of Woodfield Road and Skipton Road.
Bingo: at Bilton Community Centre, 48 Bilton Lane on Monday, October 28 at 2pm.  Everyone is welcome to go along and join in the fun.  Admission 30p bingo books 50p each.
Film Club: at Bilton Area Methodist Church on Tuesday, October 29.  Doors open at 1.30pm for a cup of tea and a chat. The film, Fisherman's Friend, starts at 2pm.  No entrance charge but donations are welcome.  The church is on Skipton Road with the main entrance and car park at the rear off Bar Place.
Bilton Area Methodist Church Lunch Club:  next takes place on Wednesday, October 30.  Enjoy a really good meal for just £4.  To book a place or find out more telephone Molly on 01423 564986
Parkinson's classes: at Bilton Health and Wellbeing Hub, 69 Bilton Lane on Thursdays 1.30-2.30pm focusing on balance, coordination and strength.  The session is fun and friendly with refreshments at the end.  Cost £4.  Also on Thursdays 4-5pm an exercise class for people with Parkinson's who prefer a smaller group, maximum 5.  Charge £10 a class.  Telephone Vicki on 07961 070159 to discuss.
Crimple Valley Quilters: meet at Bilton Community Centre at approximately fortnightly intervals on Wednesdays 9.30am-12.30pm.  The next meeting is on October 31.  The programme includes sewing days, workshops and the occasional guest speaker.  If you would like to sew with a friendly group in comfortable surroundings do go along.
Wellbeing Café: at St Luke's Church, Franklin Square, just off Kings Road on Thursdays 1-3pm. Relax, find new friends, join in with a craft activity, enjoy a fresh pot of tea, bowl of soup and cakes a plenty.  For more information telephone Victoria on 07930 559921 or Lizzie on 07876 754327.  This event is run by St John's and St Luke's Churches and supported by Dementia Forward.
Tagg House Ladies: on Friday, November 1 Alicia Lugg will give a presentation on the joy of music at Bilton Community Centre, 2.15pm.  Admission £1.50 includes tea and biscuits.  Raffle.  Visitors welcome.