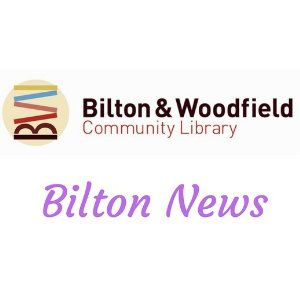 Bilton news October 10
Thank you for Bilton Gala: in the Advertiser last week you will have read that there are to be no more Bilton Galas.  The Gala has brought enormous pleasure to thousands since 1977 so we cannot let the occasion pass without saying a big thank you to the committee, not just the present one but all those committee members and helpers who have served before.  Bilton Gala has been great for the people of Bilton so, thank you to everyone who has given so much for us to look forward to over the past 43 years. 
Coffee morning:  on Saturday, October 12 in St John's Church Hall 10am-noon.  Entrance £1 includes drink and biscuit.  There will be a raffle and tombola plus stalls including books, cakes, cards and plants. Proceeds are for The Tear Fund in Uganda.  All welcome
Thanks for support: the organisers of the St John's coffee morning in September would like to thank everyone who supported it in any way and raised an astounding £842.66 for Bunda Girls Secondary School.  This will cover 18 months of high school education, board, food, uniform, a bit of pocket money and travel home during the holidays for one pupil.
Bilton and Woodfield Community Library: the annual general meeting will take place at Bilton and Woodfield Community Library, Oakbeck House, Woodfield Road HG1 4HZ, the same site as the school and Children's Centre, on Saturday, October 12 at 2pm.  Members of the public are welcome to attend.  The annual report and accounts will be available plus verbal reports on the activities of the year and an opportunity to make suggestions about the future direction of the library.  Many people still do not realise that North Yorkshire County Council does not run this library.  NYCC supplies the books, IT hardware and software and some support.  It is a partner of the registered charity Bilton and Woodfield Community Library Group.  The library is run entirely by volunteers and in addition to providing traditional library services and more it has to raise £9,000 a year to maintain the current level of services.  Do go along if you are at all interested.
Quiz for Bloodwise: on Saturday, October 12 at Bilton Cricket Club, Bilton Lane, 7.30pm.  There will be a raffle.  Everyone is welcome and members of Harrogate and District Bloodwise Fundraising Group are looking forward to seeing you on the night.
Services at St John's: on Sunday, October 13 Holy Communion is at 8am and Harvest Holy Communion at 10am.  At St Luke's there is a Harvest Parade Service at 10.30am.  Next week morning prayer is on Monday, Tuesday, Wednesday and Thursday 9-9.30am. On Wednesday, October 16 Holy Communion takes place at 10.30am.  On Saturday, October 19 there is a "Love Bilton Feast" at St John's at 6pm.  All are welcome to this community Harvest Feast.  It is a free event but please take along a bottle and something tasty to share.  For free tickets please reply by email to church@stjohnsandstlukes.org.uk
Bachelors Field:  the next working party is scheduled for Sunday, October 13.  Meet at the pond near the Bachelor Gardens entrance at 10am.  Harrogate Council will have mown the grass in late September so one of the tasks will be to inspect the scrapes that were created last year.  For further information email bachelorsfield@gmail.com
Bilton Grange URC Monday Fellowship: has something different on Monday, October 14 when members are to go and visit Chris at the Cone.  To find out more telephone 01423 503221.
Bingo: at Bilton Community Centre, 48 Bilton Lane on Monday, October 14 at 2pm.  Entrance 30p, bingo books 50p each.  Everyone is welcome to go along and join in the fun.
Fitmums: every Monday at Bilton Health and Wellbeing Hub, 69 Bilton Lane, 7.15-8pm.  This is a sociable and supportive running club for men and women.  You do not have to be fit already or a mum.   All abilities are welcome and the first three sessions are free.  To find out more email admin@fitmums.org.uk
Knox WI:  on Monday, October 14 at Dene Park Community Centre 7.30pm Keith Wilkinson is to give a presentation entitled "September 1914."  New members are welcome.  There is a small charge which includes tea and biscuits.
Bilton Area Methodist Lunch Club: the next opportunity to enjoy a good lunch for £4 is on Tuesday, October 15. For more details or to book a place telephone Averil on 01423 506600.  The church is on Skipton Road with the main entrance and car park at the rear off Bar Place.
Bilton Men's Forum: Mike Bevington is to give a talk with slides on the work of the National Trust at the meeting on Tuesday, October 15 at Bilton Community Centre.  Tea is served from 2pm, the speaker starts at 2.30pm.
Bilton WI: Ruth Haywood is to give a presentation on Haywood Botanicals on Wednesday, October 16 at Bilton Community Centre 7.30pm.    New members and visitors are welcome.
Stitch and Craft Group: will be making Christmas decorations with Judith on Thursday, October 17 at Bilton Community Centre 7.30pm. Feel free to go along to the meeting or telephone Pauline on 01423 507617 for more details.