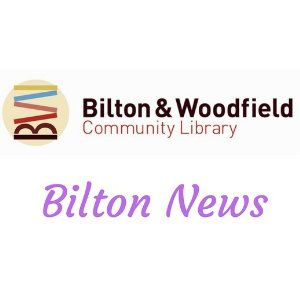 Bilton news – October 3
National Library Month: takes place throughout October and has created some media interest.  A telephone call from a cameraman making a film about libraries for ITV caused a flurry of excitement at Bilton and Woodfield Community Library recently. His request to "come tomorrow" was granted.  Lots of footage of the library was recorded and two volunteers were interviewed.  At the time of writing all that is known is that it is to be aired at some time during the week commencing October 7.  Keep an eye open for it.
At the library this week: there is no need to wait to see your local library on TV, go along and take a look in person.  There is no need to be a member to come and look but if you would like to borrow some of the thousands of books on offer or take advantage of free Wifi and free use of the public computers you will need to become a member, but that is free too.  In addition to the normal services there is a poetry reading session this afternoon, Thursday, October 3, 2-4pm.  Tomorrow, Friday October 4 the scrabble club meets 2-4pm it is £1 to take part; on Tuesday, October 8 at 10am is the free Storytime session for pre-school children and on Friday, October 11 there is free advice on how to get started with your family history 2-4pm.  The Library is on Woodfield Road on the same site as the school and Children's Centre
Services at St John's: on Sunday, October 6 Holy Communion is at 8am and 11am and there is a parade service at 9.30am.  At St Luke's all-age morning worship is at 10.30am.  Next week morning prayer is on Monday, Tuesday, Wednesday and Thursday 9-9.30am. On Wednesday, October 9 Holy Communion takes place at 10.30am.
Chat and Craft: every Monday at Dene Park Community Centre 2-4pm.  This is a friendly group of people who get together to work on their crafts which include knitting, crochet, sewing, card making and more.  Just as important is the good chat, laugh and a cuppa they enjoy.  It costs £3 a session.  If interested telephone Dorothy on 01423 506599.
Youth Club: at Bilton Health and Wellbeing Hub, 69 Bilton Lane, every Monday during term time 5-7pm.  There are activities for 11-14 year olds including confidence and team building, crafts, cooking, sports activities plus lots more.  For further information or to book a place telephone Lena Kanabar on 075320 41091.
Bilton Men's Forum: on Tuesday, October 8 at BIlton Community Centre, 48 Bilton Lane Peter Palmer is to give a talk with slides on Sienna and Southern Tuscany.  Tea is served from 2pm the speaker starts at 2.30pm.  New members welcome.
The Happiness Lab:  is a six week course at the Knox pub, Knox Lane, starting on Tuesday, October 6 at 7pm run in connection with St John's and St Luke's Church.  It should help people explore what psychologists, doctors and faith leaders say will make them happier. It is based on a series of fly on the wall documentaries following twelve people as they explore what it means to be happy.  The course is free and open to all. Telephone 01423 565129 for further details or email happylabharrogate@gmail.com
Dancing for Wellbeing: at Bilton Community Centre every Wednesday afternoon is ideal for anyone with mobility and balance problems, for those who use a walking aid or wheelchair, anyone with heart or breathing problems or conditions such as arthritis, Parkinson's or dementia.  Dancing can be standing up or sitting down and a partner is not required.  The cost is £5 including refreshments.  To find out more telephone Jackie Terry on 01423 531235.
Bingo: at Dene Park Community Centre every Tuesday and Thursday 1-4pm.  If you enjoy bingo, good company and tea/coffee and biscuits then this could be for you.  Admission 40p, bingo books extra.  The 2a bus stops at the door.
CAT's: on the morning of Saturday, October 12 at Bilton Community Centre Creative Adventures with Textiles will begin making Christmas tree decorations for their entry into St John's, Knaresborough, Christmas Tree Festival in December.  The afternoon will be an open day when anyone will be welcome to call in and look at a display of work produced by the group.  CAT's will be at the Community Centre between 10am-4.30pm.  To discover more telephone Sue on 07731 507156