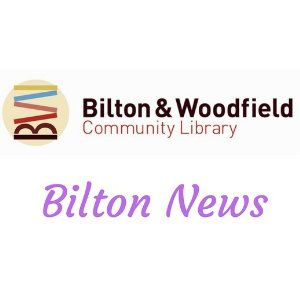 Bilton News – September 26
Pine Street Allotments: at a social event last week the fruits of the successful open day in July were presented in the form of cheques to Horticap £1,000, Bilton and Woodfield Community Library £300 and Richard Taylor School Garden Project £100.  All the recipients and the committee of Pine Street Allotments Association would like to thank everyone who supported the Open Day and helped make this fantastic result possible.  In addition trophies were awarded to Richard Henderson who was judged to have the best plot on the allotment site, Mike Barber the best half plot, Jane Barker best ladies, Dorothy Bloomfield best senior and Sarah Wright best newcomer.
Macmillan Cancer Support:  call into Bilton and Woodfield Community Library on Saturday, September 28, 10am-noon to enjoy coffee and cake and support this very worthwhile cause.  Whilst there the normal library services will be available including a computer help desk and a big book sale.  The library is on the Woodfield Road on the same site as the school and Children's Centre.
Jumble sale: on Saturday, September 28 at Bilton Grange United Reformed Church 11am in aid of the Shoe Box Appeal.  Go along and pick up a bargain then stroll down to the Library for a coffee, or go to the Library first.  The church is on the corner of Woodfield Road and Skipton Road.
Services at St John's: on Sunday, September 29 Holy Communion is at 8am, morning worship 10am and a pet service at 3pm.   At St Luke's all-age Communion is at 10.30am.
Here to Help: Jen will be at Bilton Health and Wellbeing Hub, 69 Bilton Lane on Tuesday, October 1, 11am-noon to welcome anyone who wants to call in for a cuppa and chat.  There is a wealth of information available on where to turn for community activities and support. No need to book, just drop in.  To find out more telephone Jen on 01423 813090 or email help@harcvs.org.uk
Bilton Men's Forum: Dorothy Burrows is to give a talk with slides entitled "Railways Today" on Tuesday, October 1 at Bilton Community Centre, 48 Bilton Lane  Tea is served from 2pm, the speaker starts at 2.30pm. New members welcome.
Bilton Area Methodist Lunch Club: the next opportunity to enjoy a really good lunch for just £4 is on Wednesday, October 2.  To find out more or book a place telephone Molly on 01423 564986.  The church is on Skipton Road with the main entrance and car park at the rear off Bar Place.
Bilton Historical Society: the popular winter season of lectures starts on Wednesday, October 2 at Bilton Community Centre, 7.30pm.  The speaker is Professor Joyce Hill and her presentation is "Rome in Ripon".   Admission £2.  Everyone is welcome.  In addition the Society study group meets every Tuesday morning at Bilton Community Centre  9am-noon.   There is no specific project at the moment though members are busy digitising their records and would welcome extra help.  If you are a computer user and interested in becoming involved then do drop in on a Tuesday morning to find out more or ask a committee member at the lecture.
Poetry Day: on Thursday, October 3 at Bilton and Woodfield Community Library, 2-4pm there will be a reading of favourite poems nominated by library volunteers and customers.  This is something new and promises to be a very pleasant occasion.  It is free.  Optional refreshments from the popular coffee machine are available £1.  Everyone is welcome.
Bingo: at Bilton Working Men's Club, Skipton Road every Wednesday and Saturday from 1pm.  This is a community event and membership of BIlton WMC is not required.  Admission is free. Just bingo books to pay for.  Refreshments available.  All welcome.
Tagg House Ladies:  it is the Annual general Meeting on Friday, October 4 at Bilton Community Centre, 2.15pm.  Anyone with an interest in this long established group is urged to go along.  There is a need for new committee members, especially speaker finders.  The group meets on the first and third Fridays of most months and enjoys a varied programme of talks, games, quizzes and the occasional lunch.