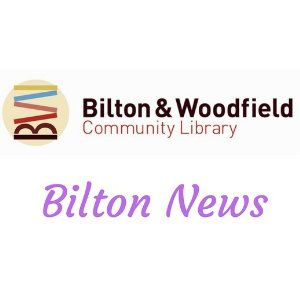 Bilton News – June 6
Volunteer week: is now almost at an end.  It usually takes place during the first week of June and is an opportunity for larger charities especially to say thank you to the huge number of volunteers who help to keep valuable services going.  It is not only large charities that depend on volunteers.  Most organisations mentioned in this column are either very small charities with no paid staff or simply like-minded people who have come together to do something for the community or for themselves.  They are all equally deserving of our thanks.  Without them life would be much poorer and there would be very little for me to write about in this column.
Scrabble: at Bilton and Woodfield Community Library tomorrow, Friday, June 7 at 2pm.  All welcome.  Admission £1.  The Library is on Woodfield Road on the same site as the school and Children's Centre.
Coffee morning:  on Saturday, June 8 in St John's Church Hall, 10am-noon to raise funds for Wellspring and its valuable work.  There will be a raffle, tombola, cakes and books.  Admission £1 includes a drink and biscuit.  Everybody welcome.
CAT'S: Creative Adventures with Textiles is meeting at Bilton Community Centre, 48 Bilton Lane on Saturday, June 8, 10am-4.30pm. The theme is dyeing, printing, painting of paper and fabric.  Telephone 07731 507156 for more details.
Bachelors Field Friends Group: is meeting at the pond near the Bachelor Gardens entrance to the field on Sunday, June 9 at 10am for a stroll round, tidying up and carrying out small tasks to keep on top of things. Email bachelorsfield@gmail.com for further information.
Bilton Grange URC Monday Fellowship:  is having a beetle drive on Monday, June 10 at Bilton Grange United Reformed Church, 10.30am.  The church is on the corner of Woodfield Road and Skipton Road.
Bingo: at Bilton Community Centre on Monday, June 10 at 2pm.  Everyone is welcome to go along and join in the fun.  Admission 30p, bingo books 50p each.
Knox WI: on Monday, June 10 at Dene Park Community Centre, 7.30pm Mrs P Garside is to give a presentation on Speak with IT.  This is a charity which aims to help those with communication difficulties following a stroke by using IT. Visitors are welcome. There is a small charge.
Bilton Ladies Forum: prosecco and strawberries are on the menu on Tuesday, June 11 at Bilton Community Centre, 7.30pm.   The season will then be brought to a close with the annual outing.  The Forum will be back in September.  For further details telephone 01423 545511
Bilton Children's Centre: on Woodfield Road invites parents to a communication and interaction information session on Wednesday, June 12, 9.30-11.30am.  The object is to help parents of early years and primary school age children learn how to help their child with their communication skills, get ideas and strategies to try at home and ask questions about their child's communication.
Soccerkids: for pre-school age children at Bilton Health and Wellbeing Hub, 69 Bilton Lane every Wednesday.  Under 3's start at 9.30am, over 3s at 10.15am.
Jumble sale: on Saturday, June 15 in St John's Church Hall at 2pm.  It may be possible to collect jumble.  Telephone 01423 563037 for more information.
Bilton Health and Wellbeing Hub: is housed in the former youth club at 69 Bilton Lane.  The youth club is still held there most Monday evenings in term time and lots of other things happen there too.  The Hub has various rooms available for hire.  There is a meeting room for up to 12 people and the sports hall for larger meetings.  The whole Hub can be hired exclusively.  Prices start at £12 an hour. For more information telephone 01423 226363 or email info@northyorkshiresport.co.uk