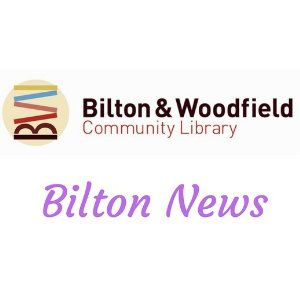 Bilton news – May 23
Library coffee and book sale: has a local history theme on Saturday, May 25 at Bilton and Woodfield Community Library.  As well as coffee and cake, £1, there will be a computer help desk for anyone having a problem with a laptop, a big general book sale, old photographs and maps to browse through, a photo album of milestones belonging to Brian Bradley Smith, digitised records belonging to Bilton Historical Society and a small display to commemorate the centenary of Bilton Grange Primary School.  In addition there will be an extra sale of books, leaflets and Bilton Historical Society publications, all with special appeal for those with an interest in local and regional history.  Everyone is welcome, purchase of coffee is not compulsory.  Doors open 9.30am-1pm, coffee served 10am-noon.   The Library is on Woodfield Road on the same site at the school and Children's Centre.  There is a car park.
Jumble sale:  raising funds for Christian Aid on Saturday, May 25 at Bilton Grange United Reformed Church at 11am.  The church is on the corner of Skipton Road and Woodfield Road.  Go along and pick up a bargain.
Brigantes Lacemakers:  meets at Bilton Community Centre, 48 Bilton Lane, on Saturday, May 25, 10am- 4pm.  At 10.30am there is a talk by Cluny Chapman entitled "inspired by Archaeology".   Email buzzvicky1@outlook.com for more details.
Services at St John's: on Sunday, May 26 Holy Communion is at 8am and all-age Communion at 10am.  Morning worship at St Luke's is at 10.30am.  Next week morning prayer takes place on Monday, Tuesday, Wednesday and Thursday, 9-9.30am.  
Bilton Area Methodist Lunch Club: the next opportunity for a good lunch for just £4 is on Tuesday, May 28 at Bilton Area Methodist Church, which is on Skipton Road with the main entrance and car park at the rear off Bar Place.  To find out more or book a place telephone Averil on 01423 506600.
Bilton Ladies Forum:  on Tuesday, May 28 at Bilton Community Centre, 7.30pm, Rob Knox is to give a presentation on autism and learning difficulties, support and guidance.   New members welcome. For more information telephone 01423 545511 or go along to the meeting.
Crimple Valley Quilters: meet at Bilton Community Centre on the first, third and fifth Wednesday, of each month and next on May 29, 9.30am-12.30am.  New members are welcome to go along and sew with this friendly group in a comfortable and social environment.  This is an opportunity to develop new techniques, broaden skills in patchwork and quilting, work on your own project and share ideas.  The programme includes sewing days, workshops and occasional guest speakers.
Wellbeing Café:  at St Luke's, Franklin Square on most Thursdays, including May 30, 1-3pm.   Go along for a fresh pot of tea, bowls of soup and cakes a plenty.  Relax, find new friends, have a chat, join in with craft activities, play some games and have some fun.  This event is run by St John's and St Luke's and supported by Dementia Forward.  For further details telephone Victoria on 07930 559921 or Lizzie on 07876 754327.
Parkinsons classes:  at Bilton Health and Wellbeing Hub, 69 Bilton Lane take place on Thursday afternoons.  Between 1.30-2.30pm is an intermediate circuit based class focussing on balance, co-ordination, strength and maintaining the body's ability to make safe, functional movements every day.  Sessions are fun and friendly with refreshments at the end, £4 per class.   Between 4-5pm is an exercise class for those who may be experiencing anxiety or have complex medical needs and prefer smaller groups.  Maximum number of participants is 5.  £10 a class.  Ring Vicki on 07961 070159 at Wish Fitness to discuss.  The classes are supported by the Harrogate branch of PD UK.
Congestion study:  just a reminder that there is a public event today, Thursday, May 23 at the Cairn Hotel, 3-5pm and 6-8pm.  This is an opportunity to find out more about how the proposals may affect our area.  Your response to the consultation and your views are important.