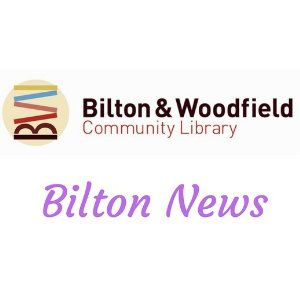 Bilton news – April 4
New lectern at St John's: Christine Raper, the daughter of Tom and Vera Leach has donated a new lectern in their memory to St John's.  Not only were Tom and Vera very active members of the Church they were members and supporters of several other local organisations, Bilton Men's Forum and Tagg House Ladies remember them fondly.  The lectern is a fitting memorial .
At the library:  this week there is a local history drop in session tomorrow, April 5, 10am-noon when a member of Bilton Historical Society will be present.  In the afternoon, at 2pm is the scrabble club, admission £1.  On Tuesday morning Storytime for pre-school age children takes place at 10am when children and their carers listen to stories and take part in simple craft activities.  This is free.   On Friday April 12 is a family history drop in session  2-4pm.   Bilton and Woodfield Community Library is on Woodfield Road on the same site as the school and Children's Centre.
Tagg House Ladies: are having a Beetle Drive tomorrow, Friday, April 5 at Bilton Community Centre, 48 Bilton Lane at 2.15pm.  Admission £1.50 includes tea and biscuits.  Visitors welcome.
Woodfield Millennium Green: the annual general meeting takes place on Saturday, April 6 on the Millennium Green at 12.30pm.   If you enjoy looking at this pleasant open space, sitting in it or walking through it then please try to attend and show your support for the hard working volunteers who keep it looking good.  You may even be tempted to join them.  The Green is on the corner of Albany Avenue and Cecil Street
Bilton Grange URC Monday Fellowship: is in for a treat on Monday, April 8 when the topic is "The Oldest Sweet Shop"  which, most people now know, is at Pateley Bridge and featured in a recent television programme about the town's in bloom effort.  The meeting is at Bilton Grange United Reformed Church, on the corner of Woodfield Road and Skipton Road, at 10.30am.
Bingo: at Bilton Community Centre on Monday, April 8 at 2pm.  Admission 30p, bingo books 50p each.  Everyone is welcome to go along and join in the fun.
Knox WI: Sharon Canavar of Harrogate International Festivals is to give a presentation on Monday, April 8 at Dene Park Community Centre, 7.30pm.  Visitors are welcome.  There is a small charge.
Bilton Men's Forum: travel with Greta Knight to South America and Cape Horn on Tuesday, April 9 at Bilton Community Centre.  Tea is served from 2pm, the speaker starts at 2.30pm.
Bilton Ladies Forum:  Sarah Haynes and Grace Dunlop will describe the joy of keeping bees at the meeting on Tuesday, April 9 at Bilton Community Centre, 7.30pm.  Telephone 01423 545511 for more information.
Cricket for Mini Tykes: at Bilton Health and Wellbeing Hub, 69 Bilton Lane on Fridays 1.30-2.15pm.  This is a fun, engaging and inspiring cricket class for 3-4 year olds. £5 per class.
Spring Fair: on Saturday, April 13 at Dene Park Community Centre, 10am-noon. The stalls include DVDs, bric-a-brac, toys and cakes.  There will also be a tombola and raffle.  Admission 50p, accompanied children free. Admission includes tea or coffee with a biscuit.  Everyone is welcome.  The 2a bus stops at the door.
CAT's: Creative Adventures with Textiles will be making book covers on Saturday, April 13 at Bilton Community Centre, 10am-4.30pm.  The workshop will be led by a member of the committee.  Visitors are welcome.  For more details telephone Sue on 07731 507156
Coffee morning: in St John's Church Hall on Saturday, April 13, 10am-noon raising money for Water Aid.
Bachelors Field: the next working party takes place on Sunday, April 14.  Meet at 10am at the pond near the Bachelor Gardens entrance.  To find out more email bachelorsfield@gmail.com