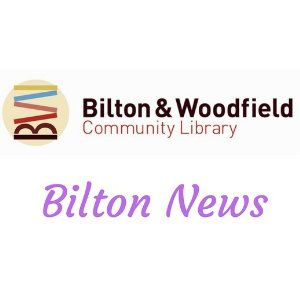 Bilton news – March 28
Coffee and crafts:  Bilton Crafty Ladies will be at Bilton and Woodfield Community Library on Saturday, March 30 10am-noon selling some of the wonderful things they produce, including a selection of babies and toddlers knitwear.  Their charities this year are Yorkshire Air Ambulance and Speak with IT.  This is the occasion of the monthly coffee morning at the library where coffee and cakes can be obtained for £1.  Chris will be present to help anyone with a problem with a laptop or ipad and there will be a large selection of second hand books for sale, most at just 50p each.  The library is on Woodfield Road on the same site as the school and Children's Centre.  There is a car park.  Everyone is welcome.
Jumble sale: in St John's Church Hall on Saturday, March 30 at 2pm.  Go along and pick up a bargain.
Services at St John's: on Sunday, March 31 Holy Communion is at 8am and morning worship at 10am.  At St Luke's Holy Communion takes place at 10.30am.
Sew-cial: at Bilton Grange United Reformed Church on Monday, April 1, 10.30am-noon.  Take along your own knitting, sewing or other crafts and enjoy refreshments and a chat.    The church is on the corner of Woodfield Road and Skipton Road.
Bilton Area Methodist Lunch Club:  Tuesday, April 2 is the next opportunity to enjoy a good lunch at Bilton Area Methodist Church for just £4.  To find out more, or book a place, telephone Averil on 01423 506600.  The church is on Skipton Road with the main entrance and car park at the rear off Bar Place.
Bilton Men's Forum: John Hargreaves is to give a talk with slides on Yorkshire Slavery on Tuesday, April 2 at Bilton Community Centre, 48 Bilton Lane.  Tea is served from 2pm and the speaker starts at 2.30pm.  New members welcome.
Bingo: at Bilton Working Men's Club, Skipton Road, every Wednesday and Saturday, noon-3pm.  All are welcome, membership of the BWMC is not required.  Entrance is free with just bingo books to pay for.
Avalon Bilton Club: is a social group for adults with learning difficulties or disabilities. It takes place at Bilton Health and Wellbeing Hub, 69 Bilton Lane on Thursdays 7-9pm.  To find out more email avalonbiltonclub@outlook.com
Bilton Historical Society:  the popular season of evening lectures comes to a close on Wednesday, April 3 at Bilton Community Centre, 7.30pm when John Oxley will give a presentation on York City Walls.  This will follow a short AGM.  Admission £2 includes refreshments and a raffle.  Everyone is welcome.  Keep in touch with the Historical Society every Tuesday morning at Bilton Community Centre, 9am-noon when the study group meets and welcomes visitors.
Tagg House Ladies:  is having a Beetle Drive on Friday, April 5 at Bilton Community Centre 2.15pm.   A good laugh is guaranteed.   Visitors welcome. Admission £1.50 includes tea and a biscuit.
Woodfield Millennium Green: the Annual general meeting will take place on Saturday, April 6 at 12.30pm on Woodfield Millennium Green, which is on the corner of Cecil Street and Albany Avenue.  The future is of the Green is looking brighter than it did a few weeks ago and the Green itself looks beautiful.  To ensure it can stay that way do go along and show your support .  You may even be tempted to give a hand.
Talk for your group: Healthwatch North Yorkshire is happy to send someone, free of charge, to give talks to local community groups.    Content would include information about what the organisation does, an opportunity to have your say on local services and discover how to get involved.  For more details email claire.canavan@healthwatchnorthyorkshire.co.uk