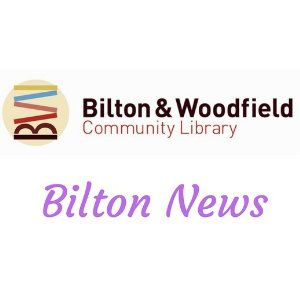 Bilton news – March 21
Children's crafts – Saturday, March 23 is "Make a Gift Day, at Bilton and Woodfield Community Library, 10am-noon.  Go along and make a simple gift for someone special, it could be paper flowers, a card or gift box, a note book; pot up a plant or try your hand at air dry clay modelling.  This is a free event.   The library is on Woodfield Road on the same site as the school and Children's Centre.  There is a car park.
Services at St John's: on Sunday, March 24 Holy Communion is at 8am and 10am.  At St Luke's morning worship is at 10.30am.  Next week morning prayer takes place on Monday, Tuesday, Wednesday and Thursday, 9-9.30am.  On Wednesday, March 27 Holy Communion is at 10.30am.
Bilton Grange URC Monday Fellowship: James from Oxfam will be at the meeting on Monday, March 25 at Bilton Grange United Reformed Church, 10.30am.    Annual membership £2, tea and biscuits £1 per meeting.  The church is on the corner of Woodfield Road and Skipton Road.
Bingo: at Bilton Community Centre, 48 Bilton Lane on Monday, March 25 at 2pm.   Entrance 30p, bingo books 50p each.  All welcome to join in the fun.
Bilton Youth Club:  at Bilton Health and Wellbeing Hub, 69 Bilton Lane every Monday during term time 4.30-7pm.  Activities for 11-14 year olds include confidence and team building, craft, cooking, sports and much more.  Telephone Lena Kanabar on 0753 2041091 for further information or to book a place.
Bilton Men's Forum: on Tuesday, March 26 at Bilton Community Centre Jaynee Moon is to give a talk with slides on climate change.  Tea is served from 2pm and the speaker starts at 2.30pm.  New members welcome.
Bilton Ladies Forum: Keith Wilkinson is to give a presentation on the Woodland Trust on Tuesday, March 26 at Bilton Community Centre 7.30pm.  This is certain to include our wonderful Nidd gorge, much of which is owned by The Trust.  If you would like to be reminded how beautiful and interesting a place it is, or if you have yet to discover it, this could be your opportunity.  Visitors welcome.  Tel 01423 545511 for more information about the Ladies Forum.
Thirst: the coffee morning at Dene Park Community Centre every Wednesday, 10.30am-noon where proper coffee and teas, and home-made cake are served by volunteers from St John's and St Luke's.  There is also free wi-fi and computer training or just basic support to help with your lap-top tablet or phone.  Everyone is welcome.  Just drop in.  The 2a bus stops at the door.
Kaleidoscope Ladies Group:  returns to Bilton Community Centre after a winter break on Wednesday, March 27 at 7.45pm.  Rachel MacLennan Jones will be giving a presentation on exercises designed to keep people flexible and also to speak briefly about her new vocation as a Funeral Celebrant.  Visitors are welcome £3.50.  For further information telephone 01423 870440
Coffee and crafts: at Bilton and Woodfield Community Library on Saturday, March 30 10am-noon when Bilton Crafty Ladies will be selling some of the wonderful things they have produced.  More details next time,  but put it in your diary now.
Jumble sale: at St John's Church Hall on Saturday, March 30 at 2pm.  There will be toys, bedding, books, clothes and bric-a-brac.  For collection telephone 01423 563037.
Another speaker:  Mike Greatorex has been in touch to say he gives talks on researching family history based on his own experiences.  He would be happy to go along to local groups and can be contacted by email gtx958@yahoo.com    
Bilton Gala:  it is hard to believe but it is only six weeks away, back on its traditional Monday, May Day bank holiday, May 6. Take a look at the website www.biltongala.org.uk to find a full list of what is on offer this year,  there are new attractions as well as old favourites.  Stalls can also be booked via the website.  Put this date in your diary too.