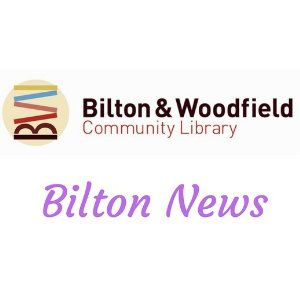 Bilton news – March 14
Bilton Health and Wellbeing Hub: at 69 Bilton Lane, the building formerly known as Bilton Youth Club, is now providing a range of services helping many different organisations and groups.  The youth club is still held there on Mondays during term time 4.30-7pm.  Each week one of the organisations is highlighted in this column.  Last week it was Craft Aid International which will be officially launched on Tuesday when the Mayor visits.  This week the highlight is on Soccerkidz for pre-school children. This takes place on Wednesdays, under3s at 9.30am and over 3s 10.15am.  To find out more about Soccerkidz and other activities at the Health and Wellbeing Hub email info@northyorkshiresport.co.uk
Services at St John's: on Sunday, March 17 Holy Communion is at 8am and a healing service at 10am.  At St Luke's contemplative Holy Communion takes place at 10.30am and Café Church at 4.30pm.  Next week morning prayer is on Monday, Tuesday, Wednesday and Thursday, 9-9.30am.  On Wednesday, March 20 Holy Communion is at 10.30am.
Sew-cial: on Monday. March 18 at Bilton Grange United Reformed Church, 10.30am-noon.  Take along a piece of craft to work on and enjoy a chat with refreshments.  If you are not a craft person but fancy the chat and refreshments you will be equally welcome.  The church is on the corner of Woodfield Road and Skipton Road.
Bilton Men's Forum: Rob Soper is to describe the golden age of sail with an illustrated talk on Tuesday, March 19 at Bilton Community Centre, 48 Bilton Lane.  Tea is served from 2pm, the speaker commences at 2.30pm.  Visitors are welcome.  More details can be sought by telephone 01423 502587
Film Club: takes place on the third Tuesday of each month at Bilton Area Methodist Church. The next showing is on Tuesday, March 19.  Doors open at 1.30pm for tea and a chat.  The film, Sister Act, starts at 2pm.  Everyone is welcome.  There is no charge but donations are welcome.  Telephone 01423 566795 for more details.
Bingo: at Dene Park Community Centre every Tuesday and Thursday, 1-4pm.  Enjoy good company, and refreshments as well as the bingo.  Entrance 40p.  Bingo books extra.  The 2a bus stops at the door.  All welcome.
Bilton Area Methodist Lunch Club: the next good lunch for £4 is on Wednesday, March 20 at Bilton Area Methodist Church.  To book a place or obtain more details telephone Molly on 01423 564986.   The church is on Skipton Road with the main entrance and car park at the rear off Bar Place.
Bilton WI:  the Annual General Meeting will take on Wednesday, March 20 at Bilton Community Centre, 7.30pm followed by "Dine with a Jacket",   For more information telephone 01423 564978.
Stitch and Craft Group: on Thursday, March 21 at Bilton Community Centre, 7.30pm, Ann Kent is to give a presentation on Sugarcraft.  Visitors are welcome.  To find out more telephone Pauline on 01423 507617.
Make a Gift Day: children's craft morning on Saturday, March 23 at Bilton and Woodfield Community Library, 10am-noon.   Go along to the library and make a simple gift for someone special.  Make paper flowers, pot up a plant, make a card, gift box or notebook, try your hand at air dry clay modelling and more.  There is something for everyone.  It is a free event and all are welcome.  The library is on Woodfield Road on the same site as the school and Children's Centre.
Brigantes Lacemakers:  on Saturday, March 23 at Bilton Community Centre, 10.30am, there will be a talk by The Cone Man.  This is as well as the normal craft activities which continue until 3.30pm.  For further information email buzzvicky1@outlook.com
Looking for speakers:  is quite a tough task for group speaker finders so they may like to know about Fiona Gilbert.   She is a volunteer for The Alzheimer Society and her aim is to raise awareness of dementia and help create more dementia friendly communities.  She will come along and talk to groups for free.  All she requires is a venue which is disability friendly.  If anyone would like to find out more contact her by telephone 01423 360011, mobile 07710 324035 or email feg@girlmonday2friday.com