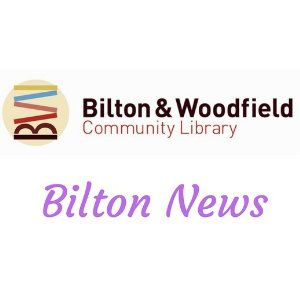 Bilton News – January 31
February is word search month: at Bilton and Woodfield Community Library.  It is mainly for children bur there could be something for grown-ups too.  On the charity notice board is a lovely selection of photographs of the Nidd Gorge and its wildlife, courtesy of Bilton Conservation Group.  Next week there is Storytime for pre-school children and their carers on Tuesday 10am.   On Friday February 8 the local history drop in session is at 10am-noon and family history drop in session 2-4pm.  The library is on Woodfield Road on the same site as the school and Children's Centre.
Sew-cial: at Bilton Grange United Reformed Church on Monday, February 4, 10.30am-noon.  Enjoy refreshments and chat whilst working on your own sewing, knitting or other crafts.  All welcome.  For more information telephone Jill on 07588 761885.  The church is on the corner of Woodfield Road and Skipton Road.
Diverse Paths Art Group:  meets at Bilton Health and Wellbeing Hub, Bilton Lane on Mondays, 9am-4pm.  This is an independent group of artists who painted under the tuition of local artist Doug Wales.  To find out more telephone 01423 226303 or email northyorkshiresports.co.uk
Bilton Area Methodist Church Lunch Club:   the next opportunity to enjoy a good lunch for just £4 is on Tuesday, February 5.  To book a place or find out more telephone Averil on 01423 506600.  The church is on Skipton Road with the main entrance and car park at the rear off Bar Place.
Wesley Guild: on Tuesday, February 5 at Bilton Area Methodist Church, 7.30pm Caryl Hallet will be talking about her passion "Lead, Light and Beautiful Glass."   Telephone 01423 505237 to find out more.
Bilton Men's Forum: on Tuesday, February 5 at Bilton Community Centre, 48 Bilton Lane, Alex Purves is to give a slide presentation on artists at war.  Tea is served from 2pm, the speaker starts at 2.30pm.  
Thirst: the weekly coffee morning on Wednesdays at Dene Park Community Centre, 10.30am-noon.  On offer are drinks, home-made cake and a friendly atmosphere, plus free wi-fi and computer training or just basic support with your laptop, tablet or phone. Just drop in.  This event is run by volunteers from St John's and St Luke's Churches.  All welcome. The 2a bus stops at the door.
Bilton Historical Society: take a walk round the Studley Royal Water Garden with Mike Bevington, all from the comfort of Bilton Community Centre on Wednesday, February 6 at 7.30pm.  Until recently Mike was a guide at Studley Royal and Fountains Abbey so as well as the visual tour of the gardens he will talk about their creators and designers, the Aislabie family.  Please note this is a change from the advertised programme.  All welcome.  Admission £2 includes refreshments.
Bingo: at Bilton Working Men's Club, Skipton Road every Wednesday and Saturday, noon-3pm.  All are welcome.  Club membership not required.  Admission is free with just bingo books to pay for.
Morris dancing: the popular team of morris dancers, Betty Luptons Laidle Laikers, meet in St John's Church Hall every Wednesday 8-9.45pm. Any ladies who may be interested in joining  or would like to find out more please telephone Claire on 01423 538170
CAT's Creative Adventures with Textiles is a group interested in many different forms of textile work.  It meets at Bilton Community Centre on the second Saturday of most months 10am-4.30pm.  On February 9, in the morning, Magie Relph from the African Fabric Shop is giving a talk relating to fabrics and her travels in Africa.  Over lunch she will have a table  selling fabric and beads from Africa.  New members are welcome.   Telephone Sue on 07731 507156 for more details or call in at the meeting.
Coffee morning: in St John's Church Hall 10am-noon on Saturday, February 8 in support of Leprosy Mission.  More details next week.